Kanazawa is not too big city and easy to look around.
All tourist attraction is within 3km from Kanazawa station.
There is no train in the city but bus covers all touristic places.
Kanazawa loop bus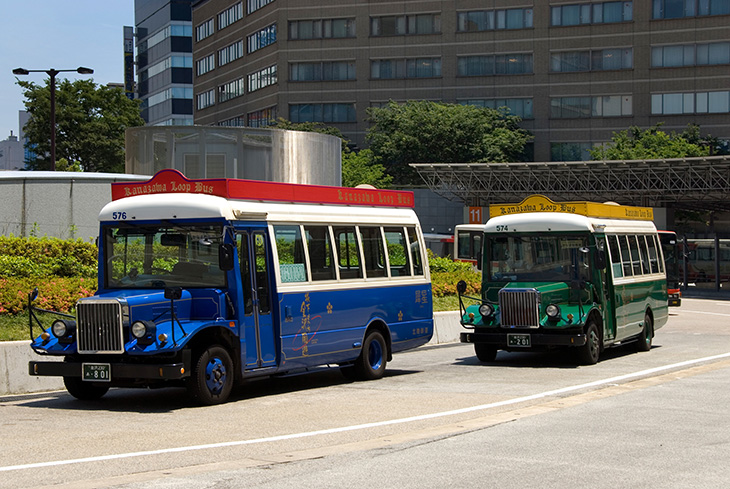 Kanazawa loop bus is convenient for tourists because it covers all tourists attractions. One day pass costs 500yen and you can take the bus as much as you want.
You can purchase it at ticket office in Kanazawa station. You can also purchase the pass in the loop bus. Note that you cannot purchase it in a normal bus.
There are two types bus – one is clockwise and another is counterclockwise.
The bus starts every 15 minutes from Kanazawa station
The closest bus stops from majour tourist attractions
Tourist attraction
closest bus stop
counter
clockwise
clockwise
Kenrokuen
Kanazawa castle
LL9 Kenrokuen-garden
(Kanazawa castle park)
RL8 Kenrokuen gaeden
(Ishikawamon mukai)
Nagamachi samurai district
LL3 Kourinbo (ATRIO mae)
RL14 Kourinbo (Nichigin mae)
Higashi chaya (geisha) district
LL11 Higashi chaya district
RL5 Hachibachou (Koban mae)
Nishi chaya
LL5 Hirokoji
 
Kazue machi (geisha) district
LL10 Hashibacho
(Kinjoro mukai)
RL6 Hashibacho
(Kinjoro mae)
21st century comtemporary art museum
LL8 Hirosaka
(Kanazawa 21 seiki bijutsukan mae)
RL9 Hirosaka
(Ishiura jinja mae)
Omicho
LL1 Musashigatsuji
(Omicho ichiba mae)
RL16 Musashigatsuji
(Meitetsu M'za mae)